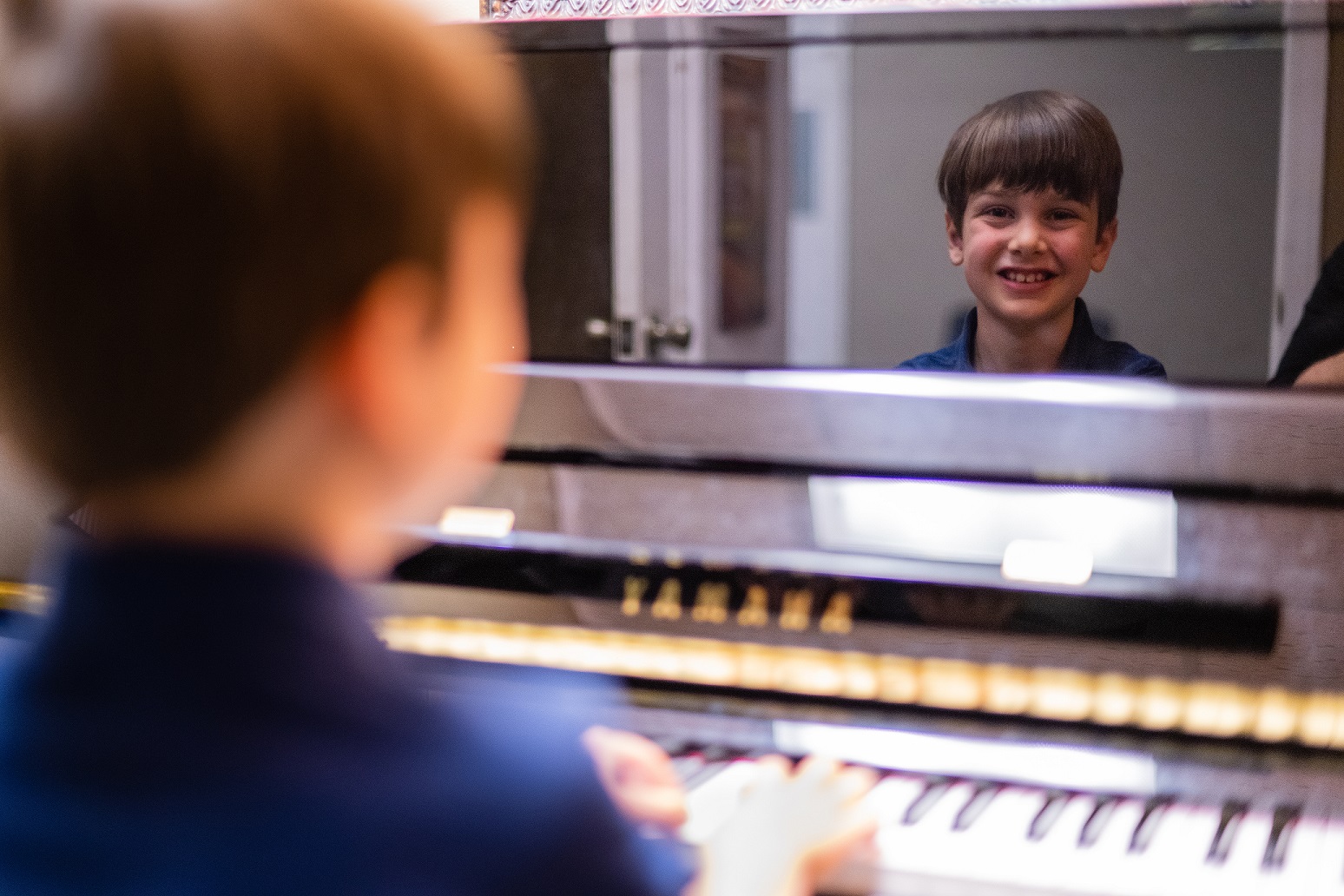 Why Take Summer Music Lessons
We get it.  Summer arrives, and we all want our freedom from homework and school year routines.  But after about a week or two, the euphoria evaporates and reality sets in.  There are a few special things planned here and there, but nothing that's very consistent or predictable.   Suddenly, summer starts to feel well, a little boring and maybe even a little challenging.
So even as summer breezes begin to beckon us to embrace new experiences, why not embark on a melodic journey that will give purpose, joy, and a wonderful sense of accomplishment?
That's right, we are talking about the many wonderful benefits of taking summer music lessons. Whether you're an advanced student, a new beginner, or a parent just starting to explore the enchanting world of music for your child, these warm months provide the perfect opportunity to hone your skills, discover new talents, and create unforgettable memories.
Here are some of our favorite reasons why summer music lessons are an absolute must for any music student – beginning to advanced, school-age to adult!
Embrace your love for and interest in music.
Summer offers a respite from the hustle and bustle of the school year, giving you the chance to immerse yourself in activities you love or even to explore new interests. When you take music lessons in the summer, you have the freedom of more time (and no homework!) so that you can fully devote yourself to learning and expressing yourself through the universal language of music.
Whether you've always dreamed of playing an instrument or wish to enhance your vocal abilities, summer music lessons at PCS offer a nurturing environment in which to develop your talents and interest.
Expand your musical horizons and try something new!
If you've been playing the same instrument or genre for a while, summer music lessons provide an excellent opportunity to broaden your musical horizons. Our teachers loving helping their summer music students explore new genres, experiment with different instruments, or dive into the fascinating realm of music theory.
By expanding your repertoire, you'll develop a deeper appreciation for various styles of music and gain valuable insights that can enrich your musicality in bigger, more extensive ways.
Develop and improve your musical technique.
Whether you're a beginner or advanced student, summer music lessons are the ideal time to focus on refining your skills and technique. With fewer distractions, you can dedicate more time, focus, and energy to practicing, opening the door wide for accelerated progress.
Expert guidance from our skilled music instructors at PCS will give you personalized feedback at each lesson, helping you master complex techniques and work on any specific musical challenges you want to overcome.
Boost your confidence and performance skills.
Nothing beats the thrill of performing in front of an audience when you feel confident and prepared, and summer music lessons offer countless opportunities to develop your ability to perform with confidence – whether on stage, at home, or for friends.
Many of our teachers actually use the summertime to begin to prep their students for upcoming performances, recitals, and judging auditions in the school year.  It's a great way to get a head start as you also discover new skills and enjoyment in performing music.
Find a source of relaxation and stress relief.
Summer is synonymous with relaxation – or at least it should be!  What better way to unwind than through the soothing sounds of music? Being able to sing or play an instrument allows you to de-stress, disconnect from daily worries, and channel your emotions into a fulfilling creative outlet – something from which students of all ages can benefit.
Whether you're strumming a guitar, playing the piano, or singing your heart out, music has the power to uplift your spirits and bring joy to every day, all year around.
Make measurable and rewarding progress.
Even though summer schedules are busy, it's a different kind of busy, and usually there is more free time to fill with practicing, setting goals, and making progress.  With fewer distractions in the summer, your mind really is free to focus on your music and achieving the musical goals that you and your teacher set together. This focus greatly impacts your progress and enjoyment!
Summer means you "use it, instead of losing it!" Summer students are significantly further ahead come fall then students who take the summer off or wait until the school year to start taking lessons.
School-age students are challenged – and rewarded – with the Practice Space app!
Being a student at PCS means you have free access to the Practice Space app where you'll find all of your assignments, an in-app metronome, a practice timer, rewards, and more!  You'll be super motivated to practice as you follow clear, easy, step-by-step assignments and earn gems for practicing consistently and completing your assignments.
Enjoy flexible scheduling at convenient Greenville-area locations.
In the summer at PCS, you not only get the flexibility of choosing when you take lessons, but you also get the added perk of being able to reschedule lessons as long as you give at least 24 hours' notice. So here at PCS, you get to have your summer lessons AND enjoy your summer too!
Simply choose the number of lessons and the length of your lessons (30, 45, or 60-minutes) and enjoy convenient scheduling at all of our locations, including our Greenville-area and Simpsonville-area studio locations on Pleasantburg Drive and Woodruff Road as well as on the campus of Bob Jones University.  (Students enrolled at CCES or in CCES Summer Encounters program can take lessons on the Christ Church Episocopal School campus.)
So, there you have it!  From expanding your repertoire to boosting your confidence and forging lasting connections, the benefits are endless. So, grab your instrument, find a talented instructor, and embark on this melodious adventure. Your summer will be filled with music that will warm your heart and give you much enjoyment and delight for the rest of your life.
The joys and benefits of taking summer music lessons are truly worth experiencing… and we promise, you won't get to the end of the summer and have any regrets about taking summer music lessons.
So, whether you want to find a new hobby, refine your skills, or enjoy a creative outlet, music lessons in the summertime offer a wide range of opportunities for immersing yourself in the world of music, learning, and progress.  You'll be amazed at the difference that music – and music lessons in the summer! – will make!