Kindermusik Classes in Greenville, SC
Open Your Child's Heart & Mind
There is powerful evidence that suggests that a child's love of music may begin developing before they are even born. Once your sweet little one arrives, you can nurture and grow that love of music in your baby, toddler, or child by bringing them to Kindermusik classes at one of our convenient Greenville, SC, music school locations.
Your heart will absolutely melt at the happy smile on your child's face and the delightful memories you'll share as you watch your child's musical potential expand and early learning skills blossom.
With Kindermusik®, you'll be able to fling those early windows of opportunity for bonding and learning wide open, but in a gentle, nurturing way that doesn't rush childhood – all while gifting your child with the love of a lifetime – a love of music.
For over 25 years now at PCS, parents have been thrilled with the way that Kindermusik® grows with their child, in weekly classes with new challenges for every age, every stage, and every new level – from newborn to 7 years.
Free Download! Getting Started with Kindermusik Classes
Download our free guide to starting Kindermusik classes.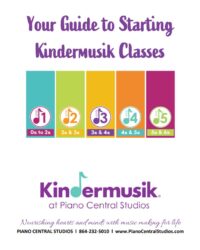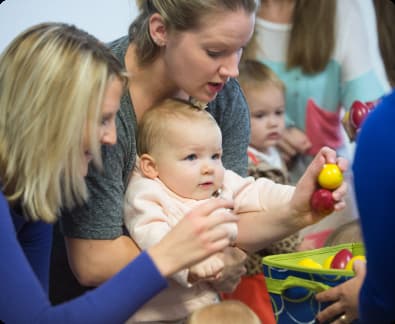 Level 1: 0s, 1s, and 2s
An early start is the best start! Foster an even closer heart-to-heart bond with your child and delight in how your child responds to music as you play instruments, sing, make new friends, cuddle, and dance together.
These "mommy (or daddy!) and me" classes are a perfect opportunity for your child to learn from our talented and licensed Kindermusik educators in a stimulating, multi-sensory musical environment. But it's not just your child who will learn — it's you too, and you can use your newfound knowledge at home every day.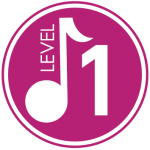 Level 2: 2s and 3s
Fall in love with all the ways you can foster your child's love of music while also rediscovering the joys of childhood through their eyes as you play, giggle, dance, pretend, sing, and explore instruments together.
As a child grows, so does their awareness, and this stage is a perfect time for your child to learn from our accomplished music teachers. In Level 2 of Kindermusik, they can practice developing their social skills in safe and nurturing surroundings even while you bond and grow closer together through music activities in class and at home too.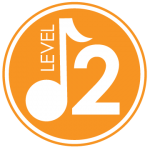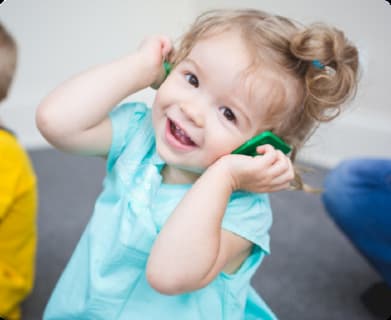 Level 3: 3s and 4s
Be confident that your child is better prepared for school and music lessons later on by gaining a noticeable difference in self-expression, self-control, creativity, imagination, and a fascination with learning and music.
In Level 3, Kindermusik gives preschoolers a discernable edge in music education — you'll easily be able to see your child's growing capacity for creative play even while their love for music, song, and sound blossoms. This is a critical age for laying a foundation of musical understanding in a joyful, gently structured learning environment.

Level 4: 4s and 5s
Thrill at how your child's joy in music making grows even deeper as they master musical terms, read and compose music, work happily together in ensembles and on teams, and learn to play the glockenspiel.
Our Level 4 Kindermusik teachers impart knowledge and skills to students in a way that feels like play to them, helping these young children forge a lifelong elemental appreciation of music, rhythm, and instruments. Through a delightful, pressure-free learning experience, Kindermusik equips children at an early age with the tools they will later need to master learning a musical instrument.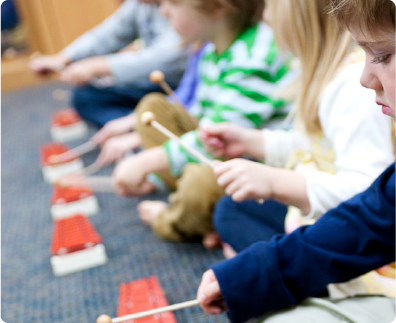 Level 5: 5s, 6s and 7s
Take pride in your child's budding self-confidence, love of singing, joy in playing both dulcimer and recorder, and expanded musical abilities as they graduate into the next big step of taking music lessons.
Level 5 of Kindermusik beautifully bridges the gap from early childhood to music lessons with a rich introduction to musical concepts, note-reading, rhythms, composition, and learning to play the glockenspiel, dulcimer, ukulele, and recorder. Upon graduation from Kindermusik, your young musician is primed and ready for a successful start in music lessons and continuing to develop a skill that will bring them – and others! – so much joy for the rest of their lives.

Kindermusik at School for Preschoolers
Kindermusik at School brings the power of Kindermusik right to your child's preschool or child development center. Your child will enjoy weekly music classes that are thoughtfully designed to improve the skills that will lead to success in school and in future music instruction.
Through our Kindermusik at School program, we bring Kindermusik to your child at their school. Early childhood education is a critical period in a child's development, during which time our talented and resourceful Kindermusik teachers can instill a love of music and learning in your child that will stay with them for life. In our Kindermusik at School program, music is a complementary experience that enhances all the things your child is learning and the many ways that they are growing at preschool.
"We've been a Kindermusik family at PCS for years! I love it because my children love it. Kindermusik has given my children a great foundation for music lessons and a love of music for life."
Your Kindermusik enrollment at PCS includes:
Easy, convenient ongoing enrollment (Stay as long as you like; pause when you need to)

A new music album on your Kindermusik® app and a new set of Kindermusik® @Home Materials (designed for your use and enjoyment at home) delivered to your inbox at the start of each new theme

Kindermusik for the Young Child students receive a Young Child bag, folder, At Home cards, CD, songbook, and more with every new semester of Young Child, plus a glockenspiel in Year 1 and a dulcimer and recorder in Year 2

Unlimited makeup classes for as long as you are enrolled (just call or email the office to schedule)

A huge discount on our fabulous Kindermusik® Birthday Parties

Free Kindermusik® PlayDates throughout the year


At Piano Central Studios, you'll be thrilled with how all of our music programs cultivate a lifelong love of music, singing, rhythm, and sound, opening your child's heart and mind to new musical learning and experiences while also instilling a strong sense of creativity, self-expression, confidence, and joyfulness in making, sharing, and loving music.
Ready to get started? Have questions? Schedule a call with us!
Click on the calendar below to schedule a call with our team.