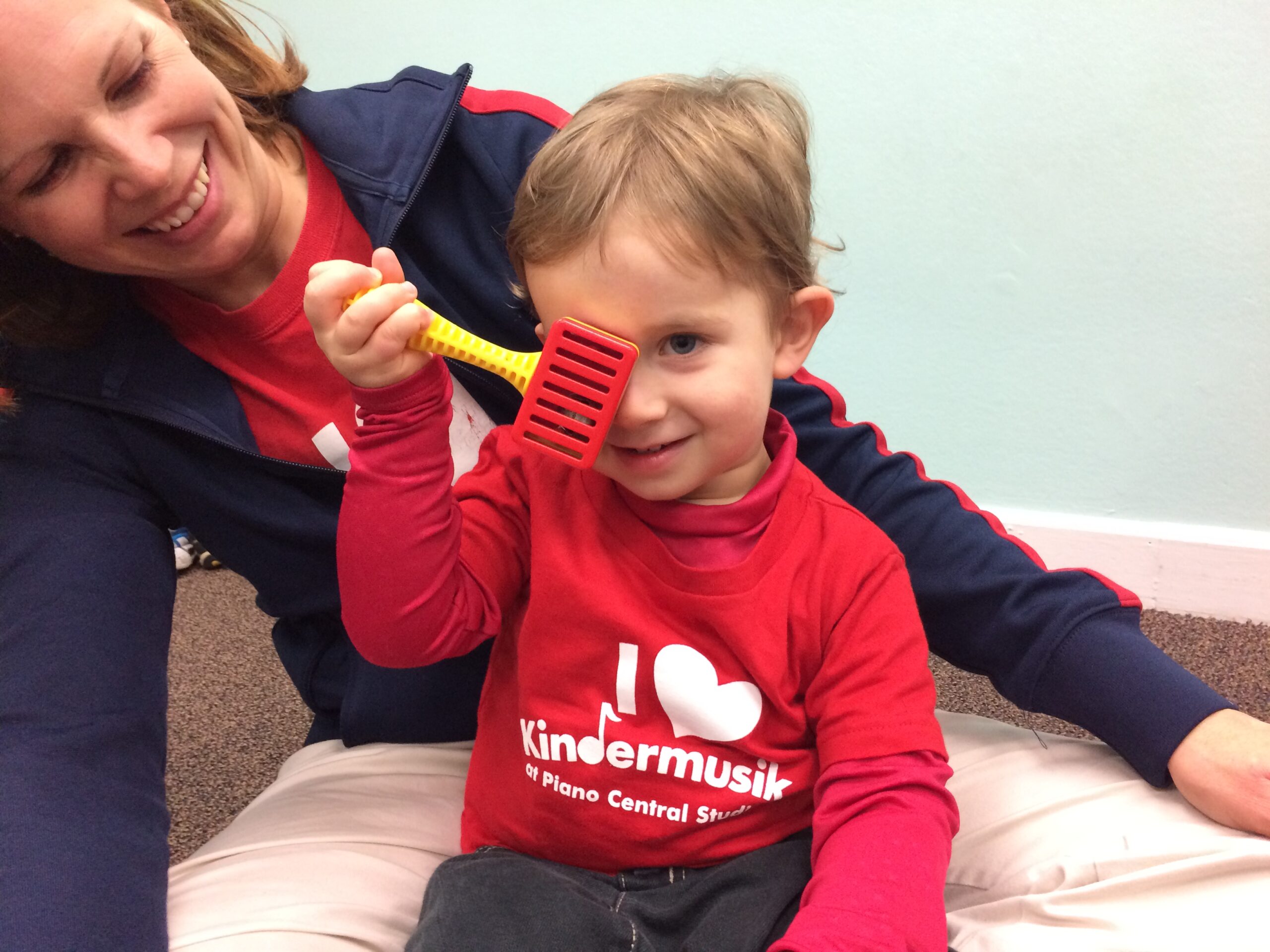 Mommy and Me Classes: 10 Things to Expect from Your Kindermusik Classes at PCS
Sometimes in the fun of our weekly Kindermusik classes, it's easy to forget just how life-changing the benefits of music classes are for young children!
One of the most significant benefits is in how music and musical experiences impact brain development from a very early age.  Musical experiences have an amazing effect on how the brain wires itself to ultimately form the architecture of the adult brain.
A staggering 90% of a child's brain develops by age 5.  Scientific research has underscored that it is the quality of a child's experiences in these early years that shapes how their brains develop and influences their ability to learn and succeed in school… and in life.
"Between the ages of one and five, the brain goes through cycles of growth and streamlining, with experience playing a key role in engraving the circuits that will endure." (TheirWorld Children's Charity article)
But it's not just future academic success that is affected.  The connections needed for many higher-level abilities like motivation, self-regulation, problem-solving, communication, and self-esteem are also formed in the early years.
Dr. Becky Bailey of Conscious Discipline puts it this way, "All learning starts in the lap and within a relationship."  She goes on to add,  "Face-to-face social interaction is literally brain food. This brain food is the foundation of all learning."
In our Level 1 and Level 2 Kindermusik "Mommy and Me" classes, we tap into the power of music and movement to give you the time and the tools to take advantage of the many benefits of early music learning, which you can tap into even with your new little baby.
Here are 10 things you can expect from your "Mommy and Me" classes (or "Daddy and Me"!) at Piano Central Studios:
Small class sizes:  Our class sizes max at 12 enrolled children.  This means that classes are large enough to give a joyful, dynamic social experience, but small enough that your teacher can pay special attention to each one in the class.  The learning and connection feels warm and personalized.
Trained music teachers:  Your PCS Kindermusik teacher is not only trained and accredited by Kindermusik International, but they also have music degrees.  Additionally, they undergo a thorough in-house training process and participate in ongoing professional development.  Most importantly, they love children, families, and teaching music!
A structured curriculum:  Inspired by the Teacher Guides created by Kindermusik International, your Kindermusik classes at PCS are built on thoughtfully crafted lesson plans within themed units.  The lesson plans have a structure and flow to them that is designed with each age group in mind, giving the child a sense of predictability and consistency, yet tapping into the wonder and delight of the familiar and the new.  This intentional structure helps your child get the most from their music learning experience since each lesson is carefully planned to include both repetition and variety – two keys to learning that sticks!
A clear pathway for progress:  Some Mommy and Me classes are a nice way to pass time.  With Kindermusik, it's much more intentional – it's fun and music with a purpose.  From Level 1 to Kindermusik Musicians, the final level in Kindermusik, each level brings new musical learning, all designed to prepare our students for a successful and happy transition into piano, strings, or voice lessons.
A developmentally appropriate curriculum: We have chosen the Kindermusik curriculum for our mommy and me classes because it is developmentally appropriate.  Kindermusik International defines it this way, "From vocal range to instrument safety to attention span, every age is different. That's why each Kindermusik level is designed to help children truly enjoy the activities and meet appropriate developmental milestones."
Designed for specific age groups:  Not only is Kindermusik developmentally appropriate, but it is also carefully designed for specific age groups.  Here are those groupings:
0s to 2s: Babies and Young Toddlers in Level 1
2s and 3s: Older Toddlers and Early Preschoolers in Level 2
3s and 4s: Preschoolers in Level 3
4s and 5s: Big Kids in Level 4
5s to 7s: Older Kids in Kindermusik Musicians
Fosters development in early years:  We're all about the music and learning all things musical in the early years, but along the way, the Kindermusik curriculum is thoughtfully designed to enhance a child's development in all areas – physical, cognitive, social, emotional, language, and musical – through music and movement activities.
Socialization and lasting friendships:  You want your child to benefit from healthy social interactions.  One of the best ways to foster your child's social development is in a social setting.  Because many of our families and children stay together from class to class and level to level, the experience rises above mere social interaction.  Friendships form and develop that carry through Kindermusik graduation and beyond because of the progression and community we foster for you here at PCS.
High levels of interaction and engagement:  In Levels 1 and 2, the classes are just as much for the adults as they are for the children.  Don't expect a drop-off experience, or even to sit passively and watch your child be entertained.  Come ready to engage and interact with your child.  The more you engage, the more you'll both get out of your music classes!
We love how Dr. Becky Bailey puts it so beautifully, "Face-to-face interaction (brain food!) consists of four things: eye contact, touch, playfulness, and presence."  In class, we'll come alongside to support, encourage, and inspire you to new levels of engagement with your child.
Benefits for you both: You might have first been looking for a "mommy and me" class to do something for your child.  But in Kindermusik, there are benefits for you both!  You'll both have a social outlet and a way to meet and make new friends.  Your week will be highlighted with the predictable routine of your weekly class.
You'll grow closer together as you learn more about your child and enjoy a shared musical experience.  You'll also have something to take home and enjoy together throughout the week.  Best of all, you'll both feel good about a class that puts a smile on your face and a song in your hearts to stay!
In conclusion…
You want the best for your child.  You want to give them every advantage and a happy childhood filled with special moments and sweet memories.  Children grow up way too fast, and you want to linger in those precious early years and soak in every moment with them that you can.  That's where an experience like Kindermusik comes in.
Here at PCS, we love coming alongside you and being a part of this amazing process in our Kindermusik classrooms each week.  It's a special joy to watch each child's development unfold — and to celebrate the milestones and special moments with you along the way too, from Level 1 all the way through to graduation into music lessons which we offer here at Piano Central Studios!
If you're still not sure, take advantage of our one-month trial and enroll without worry.  See for yourself the songs, smiles, and friends you'll both find in your "Mommy and Me" classes!  (Dads, nannies, grandmas, aunts, and uncles are welcome too!)
We think you'll fall in love with your Kindermusik classes and stay for a very long time, but with our one-month trial, your only obligation is for the month.  If you decide not to continue, simply submit a withdrawal form by the end of the month.  It's that easy!