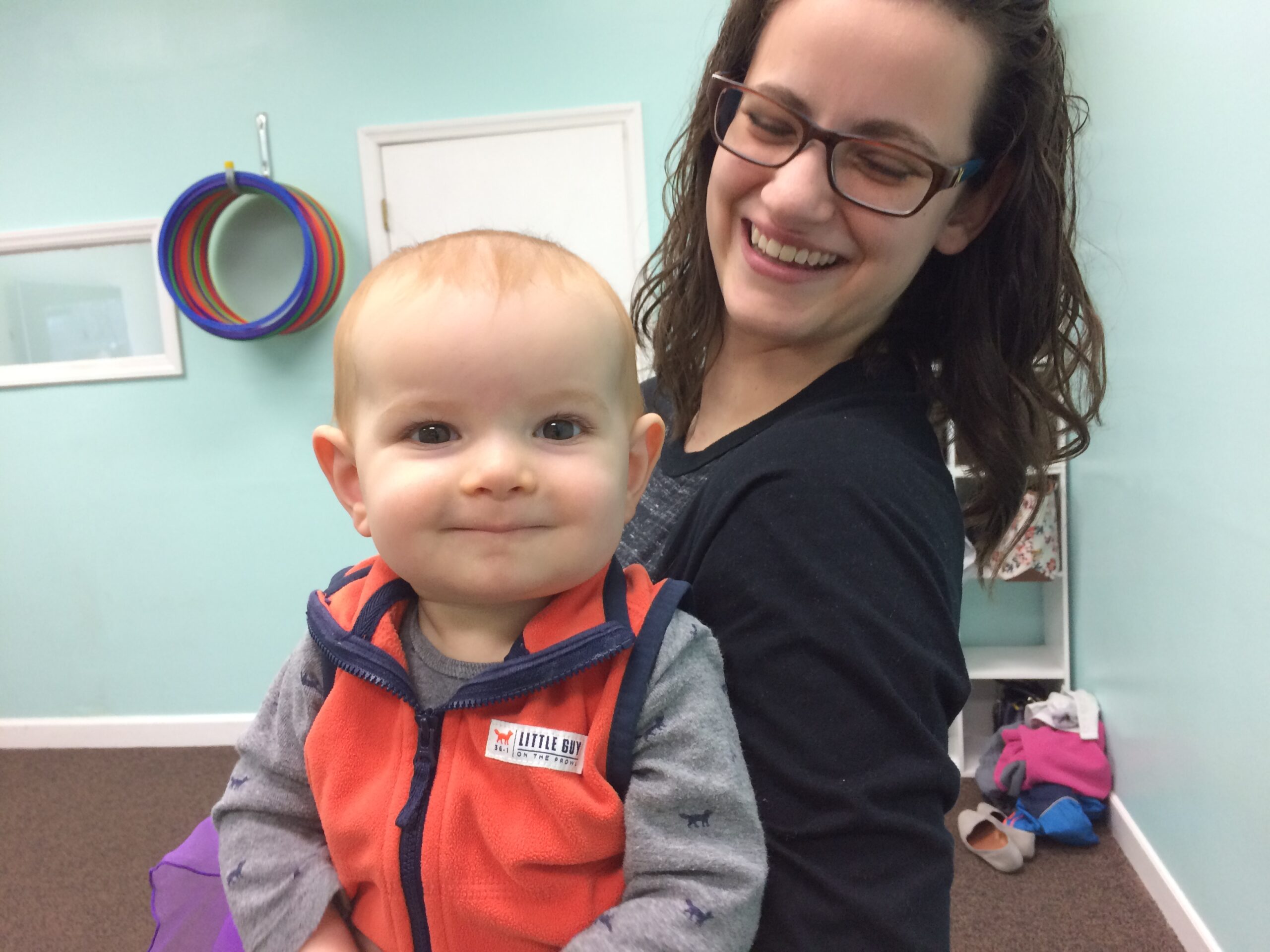 Seven Questions to Ask Before Enrolling in Kindermusik Classes at Piano Central Studios
Even before all of the neuroscience and research started saying so, parents somehow knew instinctively that early exposure to music was good for even very young children.  That's exactly why the first Kindermusik curriculum was introduced in the United States way back in the late 1960's.
Good for them?  Absolutely!  But will they LIKE their music classes?  And really, how much can a young child actually learn by taking a music class like Kindermusik?
As a parent, you may also be wondering if YOU will enjoy Kindermusik classes. Whether you have a musical background yourself or not, you might also be concerned about how you'll be able to help your child get the most out of attending Kindermusik classes.
It's an investment of time, effort, and money to enroll in Kindermusik classes – we get it!  But after nearly 30 years of teaching Kindermusik classes here at Piano Central Studios, we are confident of two things – the first is that your child will love it (and so will you!!), and the second is that you'll be amazed at just how much your child learns and benefits from Kindermusik classes.
We have compiled seven common questions you might want to ask and seven equally reassuring answers for you about signing up for Kindermusik classes.
Question 1: Will my baby like Kindermusik classes?
Honestly, we've never had a baby NOT like their music class!  Even the littlest babies in our Kindermusik classes respond in music classes, and we can tell they are loving it as they smile, coo, make eye contact, sway, and kick their legs.
But it's not just our observations in class that matter.  Scientists have found that even unborn babies have been shown to respond to music in the womb.  It's also fascinating to note that your child's brain is prewired to learn music, just as it's prewired to learn language, says Daniel Levitin, Ph.D., author of This Is Your Brain on Music.
We are also very confident that your baby will love music class because YOU will love bringing them to music class and enjoying Kindermusik classes with them!  And maybe you'll have some adorable responses at home like these parents did with their twins!
If you're still feeling uncertain, find confidence in knowing that with our one-month trial, you can try us out for a month.  If you decide not to continue, all you have to do is let us know by the end of the month, and there is no further obligation.  We'll kindly and graciously withdraw you from the program – and hope to see you back again in the future!
Question 2: What should I expect from Kindermusik classes?
Expect your Kindermusik classes at Piano Central Studios to fill your heart and your child's heart and mind in ways that only music can.  Expect to make friends and find a built-in support network.  Expect to love class as much – or more! – than your child does!
You can also look forward to actively engaging with your child through singing (no solos required!!), moving, dancing, playing instruments, rhymes and stories, cuddling during Quiet Time, and colorful props like scarves and parachutes.  Kindermusik embodies everything you want quality time with your child to be!
And that's just in class.  At home, you can carry all of the delightful activities and music home with you to play, dance, cuddle, and sing together throughout the week at home.  Daily routines and transitions from one thing to the next are all so much easier with a little song or rhyme to carry you through! All of your music from class is available to you at the touch of a button in the Kindermusik app.
Best of all, the Babies class is just the beginning.  Your child can continue through each of the levels all the way until graduation from Kindermusik into music lessons at PCS!
Question 3: What is the parent's role during music class?
Relax, have fun, and engage with your child – those are the three simple things you get to focus on.  This is a beautiful opportunity for quality time, to enjoy getting to know your child, and to delight in playing and enjoying music together.
The interaction with your child is key.  Dr. Becky Bailey explains parent engagement this way — it is all about eye contact, touch, playfulness, presence.
In Kindermusik, you're not doing this alone.  Your caring, licensed Kindermusik educator is there leading the class, introducing the activities,and supporting you as you interact with your child.  You'll also love that the other adults there in class with their children are a source of encouragement and friendly camaraderie as you do music class together.
Question 4: How do you keep young babies engaged in music classes?
It's that proven, magic formula of a wonderful teacher plus a caring adult (parent, grandparent, nanny, etc.) and an intentional music curriculum plus a carefully crafted lesson plan with developmentally appropriate musical activities.
But there's also a comforting and predictable structure to our class because babies (and all young children!) love and thrive on routines.  So we start with a Hello song and end with a Goodbye song.  We also include bounces, rhymes, play-alongs, Quiet Time, Story Time, instrument exploration, and circle dances in every lesson.
Variety is as important as predictability when it comes to young children (and their parents too!!), so we deliberately add in the variety with new themes, a new music learning focus, and new music every four weeks.
Question 5: When should I start my child in Kindermusik classes?
With Kindermusik, you can begin bringing your baby to music class when they are a newborn.  The Kindermusik Level 1 classes will benefit you both tremendously, stimulating their early cognitive, physical, and musical development and giving you ideas for playing and including music at home but also providing you with a wonderful support network through the other adults in your class.
The first five years of a child's life are the most formative.  Your child is ready to learn from birth, and their brain develops faster in the first five years of life than it will at any other time in their lives.  Music is one activity that is vitally important in supporting very young children in the early stages of language development, learning patterns, motor skills development, listening development, and becoming self-expressive.
Having had our Kindermusik program at Piano Central Studios for nearly 30 years, we've seen firsthand what a huge advantage our students have when they start their musical learning journey in Kindermusik.  Not only are they further ahead when they start music lessons after graduating from Kindermusik, but they progress faster and stick with their musical studies longer.  Kindermusik puts a love of music in their hearts and minds to stay!
Question 6: Is an academic activity better for my baby than music?
As parents, we want the very best for our child.  But sometimes the best choices have to be made based on what your child needs at a certain age or stage.  This is why many experts have begun raising serious, validated concerns that pushing a child into an academic setting too soon or trying to teach them to read too early can actually have a negative impact developmentally and academically.
Instead, pediatricians and early childhood experts are prescribing play and music as some of the best ways to boost cognitive development and give your child an early advantage.  Music truly does prime the brain for learning!
A play-based learning approach focuses on the process, rather than the product.  This is a philosophy inherent within the Kindermusik curriculum – that we focus on the process rather than the performance.  A process-based approach is actually one of the many ways that Kindermusik helps to prepare your child for school.
And if you're wondering what to do when it comes to music and your baby, we also love these ten reasons to give babies a daily dose of music!  Giving your little one a happy little daily dose of music comes very naturally and effortlessly when you are enrolled in Kindermusik classes.
Question 7: If my child has special needs, can they still benefit from Kindermusik classes?
One of the many strengths of Kindermusik is its focus on the different developmental needs of each stage of childhood. Each class level is designed to give every child the most appropriate and stimulating environment to nurture their developmental needs. In fact, it is Kindermusik's musical and developmental basis that makes the program such a natural and effective way to augment occupational, physical, or speech therapy.
Every child has their own developmental pattern of growth, and the special needs child is no exception.  Instead of rushing ahead, Kindermusik celebrates and explores each stage, fostering the joy and creativity in each individual child and respecting their unique pattern and pace of growth. As a result, Kindermusik classes provide a unique place where every child can actively participate with peers of all abilities without pressure to perform in any way.
But don't just take our word for it.  Watch this beautiful video testimonial about the power of Kindermusik in the life of a special needs child and her family.
Conclusion
You've done the research.  You've asked all the right questions.  Here are even more reasons to choose Kindermusik.
And so now we want to invite you to experience Kindermusik for yourself and give your child the gift of a lifelong love for music.
They will learn so much, and so will you – about music, about play, and about your child.  Your time with your child in Kindermusik and the delightful, musical memories you'll make together will forever strengthen the bond and connection you have with each other.
Best of all, you will have done what every parent wants to do – to give their child every possible early advantage for growing into a happy and confident adult by starting them out in Kindermusik.
Enroll today!  We promise, you AND your child will love it!