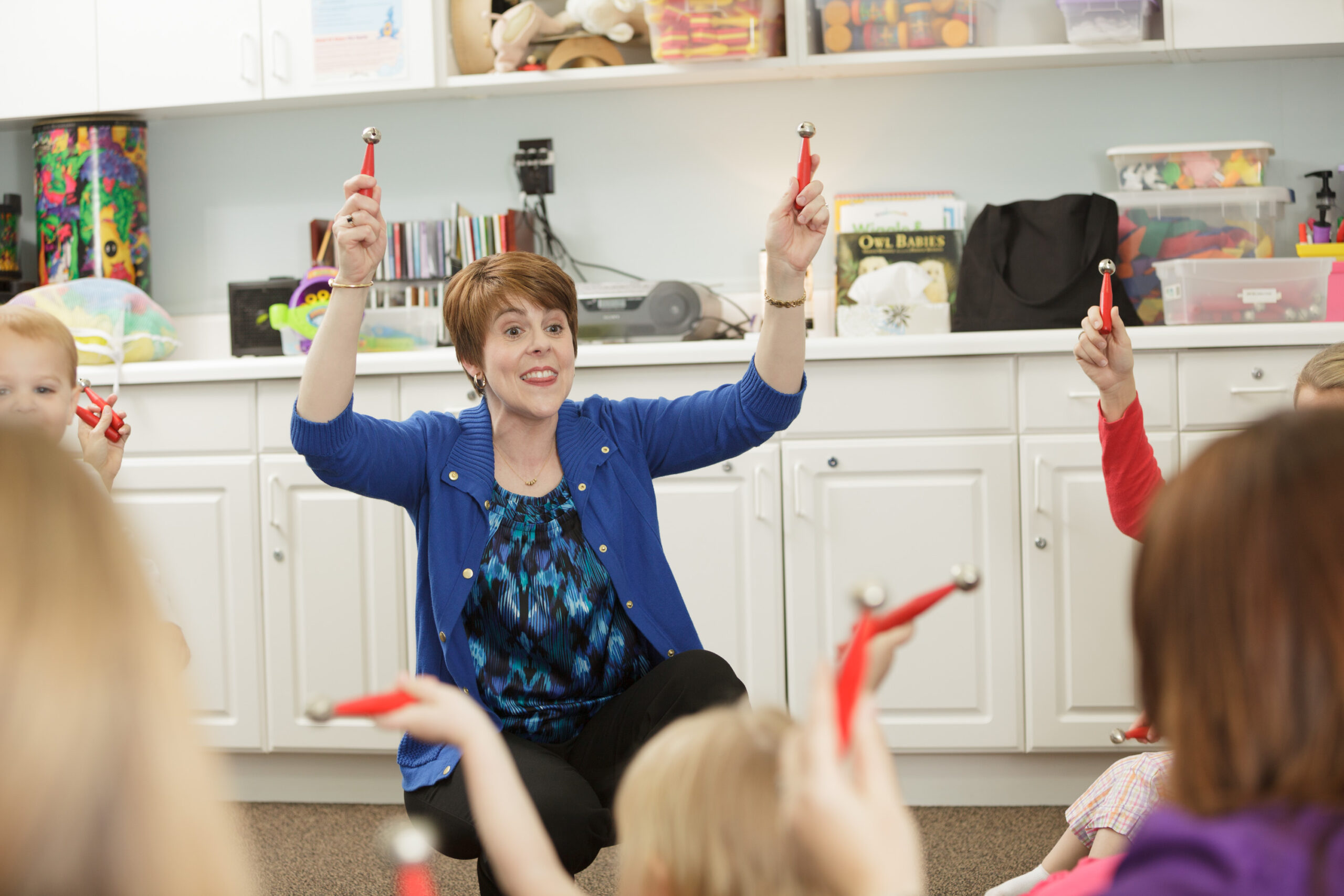 There are many reasons why parents choose to enroll their child in a program like Kindermusik.  Some want an activity they can do together away from home.  Some want a social outlet – for themselves and for their child.  Some want to nurture and develop what will likely become a lifelong love – a love of music.  Other parents want to give their child a headstart on learning to learn with music as the vehicle.  And many parents see the value of prepping their child for success with private music lessons later on when their child turns 6 or 7 years old.  All parents want the best for their child, and Kindermusik is one of the very best things you can do for a child!
At Piano Central Studios, we're proud to offer Kindermusik classes to families in Greenville and nearby surrounding areas. In fact, we were one of the first Kindermusik programs to be established in the area way back in 1994!  So we've seen a lot of smiles, songs, moving, bonding, friendships, and memories happening within our walls over all those years.
We've also had the great joy of watching the majority of our Kindermusik graduates move beautifully and seamlessly right into music lessons where they have not only excelled; but they have also stuck with it.  There's nothing more rewarding to us than to hear that our students keep music in their lives even after they are no longer taking lessons.  It means we did our part in fulfilling our mission to nourish hearts and minds with music making for life.
Why We're Passionate About Kindermusik
As passionate music professionals, we at Piano Central Studios are naturally excited about anything that can get children interested and involved in music at a young age. But the Kindermusik program is special to us for a few key reasons.
First, it's a form of connection between parents and children that can be difficult to come by in our fast-paced world. It is truly the definition of quality time, when everything else goes on hold and there is nothing more important than making music.  But it also allows families to connect with other families and form friendships that extend beyond the Kindermusik classroom.
Second, we believe that all children are musical, and Kindermusik provides a great foundation upon which they can develop music skills and life skills, all while gaining a huge advantage academically. Research shows that children who are exposed to music at a young age have been shown to have improved mathematical abilities, spatial reasoning, and reading skills, among other benefits.  But there's nothing better than when the love of music that's inside all of us gets to have a place to grow, deepen, and shine!  Kindermusik brings out the music in all of us.
Next, Kindermusik gives children that little extra advantage that only early music learning can give.  Although music and music making is our focus, along the way, we marvel at how the music learning is enhancing every area of a child's development – cognitively, physically, emotionally, socially, and academically.  Kindermusik gives your child the best of all worlds in a playful, pressure-free, joyful learning environment.
Finally, we love the community that these classes create. It's not uncommon for students who started in Kindermusik classes to continue right on into taking private lessons with us. The sense of belonging and the feeling of family are two big things that are nurtured right from the very start for the children and families in our program.  And that's a rare thing to find all under one roof!
Why the Right Teacher is Important
Not just anyone can teach Kindermusik; in fact, it takes a very special kind of person to be a Kindermusik teacher.  Our Kindermusik teachers are some of the most caring, kind, and creative people you'll ever meet.  They love children; they love music; and they love bringing children and families together through music. They are passionate about early childhood music education, and they put their whole hearts into teaching – and loving! – the children in their classes.
They are masters at creating an environment where children and families feel welcomed, comfortable, safe, and loved.  Learning flourishes and a lifelong love of music can be inspired when all of those emotional needs are met.
Our Kindermusik teachers are flexible, creative, imaginative, and inspiring.  They know how to engage all personality types and inspire all learning styles.  They are masters at connecting with people and building relationships.  Bringing a group of children and families together through music is innate to them.
Most of all, they understand children – where they are developmentally and what they need to be successful learners and musicians, even from a very young age.  So you'll find activities perfectly tailored to the needs and stages of each child as they move from one level to the next in Kindermusik.
It takes a gifted teacher to be able to teach babies to big kids, and those are exactly the kind of accredited Kindermusik teachers we hire here at PCS.  You and your child will be in good hands!
What to Expect From Kindermusik Classes
So, what can you expect from one of our Kindermusik classes? First and foremost, you can expect your child to be smiling a lot – in class and at home! These classes are designed to be engaging and enjoyable for kids, and our teachers go above and beyond to make sure that each child is engaged and enjoying class in their own perfect way.
Every week, we'll sing, move, do circle dances, play instruments, explore, and learn about musical concepts.  The learning and the concepts build from level to level in Kindermusik, starting with Level 1 for babies to age 2 and going all the way through our Level 5 classes for big kids.
From that first snuggly dance in your arms to proudly playing their first song on the glockenspiel, your child will learn, grow, and thrive through their first experiences with learning about music in Kindermusik.
Best of all, you're there with them all along the way, sharing in the joys of learning and making music – in your first classes together and then during Sharing Time as your child transitions into the preschooler and big kid classes.  Best of all, you both get to enjoy the music and musical activities throughout the week at home with the Kindermusik app and your online Home Materials.
When it comes to deciding about enrolling in classes like Kindermusik, you probably have a few questions.
Here are the answers to the some of the most common questions we get asked about our Kindermusik program here at PCS:
What are the levels of Kindermusik and the ages for each level?
There are five levels of Kindermusik.  Only Levels 4 and 5 are sequential; otherwise you can jump in at any time – even part way through a month!
The five Kindermusik levels are:
Level 1 for 0s to 2s
Level 2 for 2s and 3s
Level 3 for 3s and 4s
Level 4 for 4s and 5s
Level 5 for 5s to 7s
What can I expect when I enroll in Kindermusik classes at PCS?
You can expect to feel welcomed, inspired by what you and your child learn and enjoy together, connected with other parents and children in your class, happy with your teacher and your classes, and delighted with how your child is thriving and growing musically, socially, and cognitively.
What if I've never done Kindermusik before?
Each level of Kindermusik is designed to be just what your child needs at any particular age or stage in those precious early years.
No matter if it's Level 1, Level 2, Level 3, or Level 4, you can jump into the program and enroll in Kindermusik classes at any time.  We'll even pro-rate if you start part way through a month.
What kind of scheduling options are available?
We offer a variety of scheduling options at our two studio locations, and we'll even start new class times on demand whenever there's enough interest.
What if I miss a class or need to cancel my enrollment?
We are pleased to offer our Kindermusik families the option of unlimited makeup classes for as long as you are enrolled.  Come to a different class the same week or double up another week!
For more on any of our Kindermusik programs all year around, or to learn about our group classes, private lessons or other music lesson programs in Greenville, SC, speak to our staff at Piano Central Studios today.