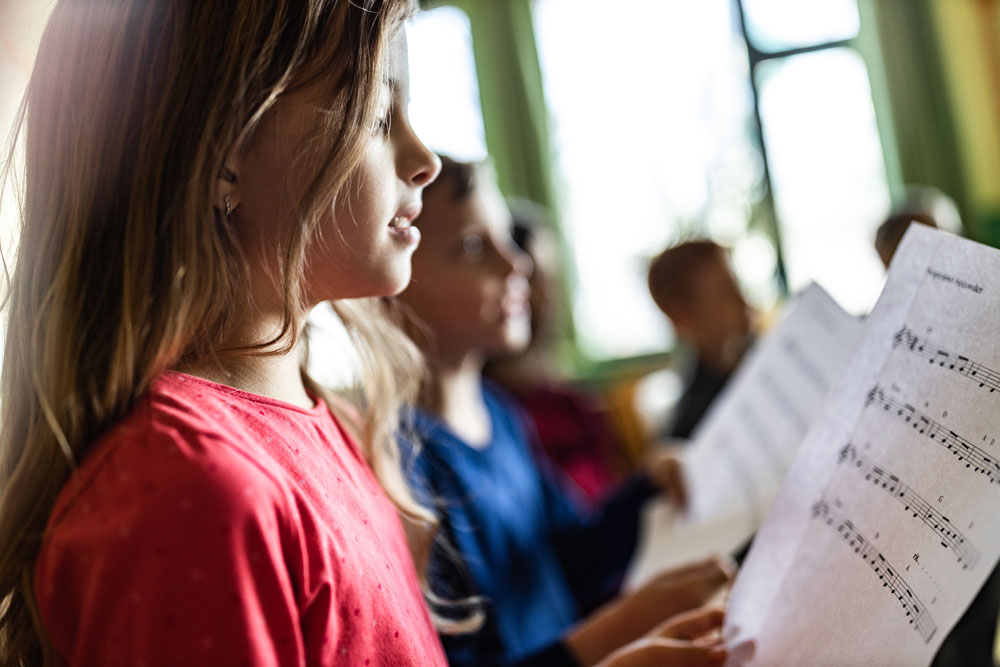 There are several ways young people learn across many disciplines, and the realm of music is no exception. Among the formats that have shown the greatest success for younger beginning students is the group class setting.
While some students may be ready to jump into private musical instruction at age 6, most beginners excel and progress faster in small group classes.
At Piano Central Studios, we are delighted to offer a huge range of group music lessons for various groups and needs, including our new studio group classes for students aged 6-9 in piano, strings, ukulele, voice, and pre-band instruments.
What are some details on this new set of classes we're offering, and what are some of the major benefits of group settings for many music students? Let's go through everything you need to know.
Benefits and Value of Group Music Classes
There are a number of direct benefits for beginning students taking group music lessons:
Ensemble skill development: Many forms of music are played regularly in groups, whether in a band or orchestra setting. In order to learn how to best play with others and understand the dynamics of being in an ensemble, students need to have ample opportunities to practice in groups. This is one direct benefit that can be applied to real-world scenarios.
Learning foundational musical skills: For many students, having a basic understanding of music theory, notation, and other technical skills is essential to playing the instrument they've chosen. Group settings provide an opportunity for everyone to learn these skills together at their own pace, and to have them reinforced by peers and instructors.
Stepping stone into private lessons: For most students, beginning in group lessons will lead right into private lessons in a year or two. The group classes provide a great foundation and introduction into what it's like to learn an instrument before committing to one-on-one instruction.
Fun and social interaction: Music – and music making – is meant to be enjoyed! Group settings provide an opportunity for students to interact with others  their age and to bond over their shared love of music. These classes are a great way to make friends, discover friendly accountability and encouragement, and create lasting memories.
Helping reduce shyness:One of the great things about music is that it's a non-verbal form of communication. This can be helpful for those students who are more introverted or shy since they can express themselves in a way that feels comfortable for them. Group settings provide a supportive and safe environment for these students to explore their musical abilities.
Cooperation and group skills:For many kids, group settings are the first opportunity they have to learn how to cooperate with others and to work towards a common goal. These skills are essential in all aspects of life, and music lessons are a great way to help kids develop these valuable life skills.
What are some of our new studio group classes that are ideal for bringing these benefits to your children across a variety of musical interests? We'll go over those in our next few sections.
Introducing the new Group Music Classes at Piano Central Studios
Studio Singers: Voice
For those looking to develop their child's vocal abilities and confidence in a group setting, our new Studio Singers class is the perfect fit! This class is open to students aged 6-9, and no prior vocal experience is necessary.
In this class, we teach several things:
Vocal technique: Showing proper posture and breath support, how to produce a clear tone, and more.
Musicality and movement: How to keep a steady beat, read pitch notation, and understand dynamics.
Pitch and reading music: Reading basic melodies and harmony parts.
Teamwork skills: Learning how to work together as an ensemble to create a cohesive sound.
Confidence and musical creativity: Students will have opportunities to perform solo and group pieces in front of their peers, helping them to develop confidence in their musical abilities.
This class is a great way for kids to explore their vocal range, learn proper technique, and develop the confidence they need to perform. We believe that every child has a voice that deserves to be heard, and this is a way for them to express it!
Studio Keys: Piano
Another popular option for piano students is our new Studio Keys class! This class is also designed for beginning students aged 6-9.
In this class, we focus on everything from learning foundational skills to reading music, improvising, playing with groups, and more. We believe that piano should be fun and accessible for everyone, so we make sure to keep a joyful and supportive atmosphere in our class.
Studio Keys uses the curriculum Music Moves for Piano, a new approach to learning to play the piano that focuses on developing the entire musician and ensures joyfulness, musicality, and a delightful connection to making music.  Music Moves lessons are activity centered, and students learn from modeling and doing.
Please note that for this class, students must have a digital or acoustic piano at home for practice.
Studio Strings: Violin or Cello
We also offer violin and cello classes for those looking to join a string ensemble! Our Studio Strings classes are open to all first-time students aged 6-9.
In this class, we focus on developing proper technique, musicality, and teamwork skills. Note reading and ear training are also introduced.  Students learn about their instrument as well, including care and tuning of the instrument.
With this easy and enjoyable introduction to either the violin or the cello, students learn basic bow grip, hand position, and fingerings.  Game time and hands-on experience with an instrument just your size also ensures a delightful and successful introduction to your first stringed instrument.
Students must rent or purchase an instrument for this class.
Studio Ukes: Ukulele
For kids interested in ukulele, or even for those who eventually want to learn the guitar but want to start with a smaller instrument, our new Studio Ukes class is perfect! This class is open to students aged 6-9.
In this class, we focus on everything from learning proper technique and how to read music, to playing with others and having fun! We believe that the ukulele is a great entry-level instrument for kids because it's small and easy to learn how to play.  Besides that, everyone loves the ukulele!
Students should bring their own ukulele to class each week.
Studio Windstars
Finally, for students looking to learn woodwind or brass instruments, we offer our Studio Windstars class! Our Studio Windstars classes give your 6- to 9-year-old beginner an enjoyable and positive introduction to the exciting world of woodwind or brass instrument playing.
Using Nuvo instruments and the Windstars curriculum, your beginning brass or woodwind musician will be introduced to note reading, learning proper breath control, listening skills, and basic fingering technique – all on an instrument that's as easy and fun to play as it looks.
Choose from:
The jFlute (pre-flute)
The jSax (pre-saxophone)
The jHorn (pre-brass)
The Clarineo (pre-clarinet)
Studio Windstars provides your young musician an enjoyable and successful stepping stone towards the band instruments and techniques they will use later in their school bands… and beyond!
Students must purchase a Nuvo instrument for this class.  We recommend ordering your instrument from the Nuvo Store on Amazon.
In conclusion…
We hope this article featuring our group lessons program has given you a better idea of what our new studio classes are all about! If you're interested in enrolling your student, or learning about any of our other group or private music lessons, call the helpful office team at Piano Central Studios today!