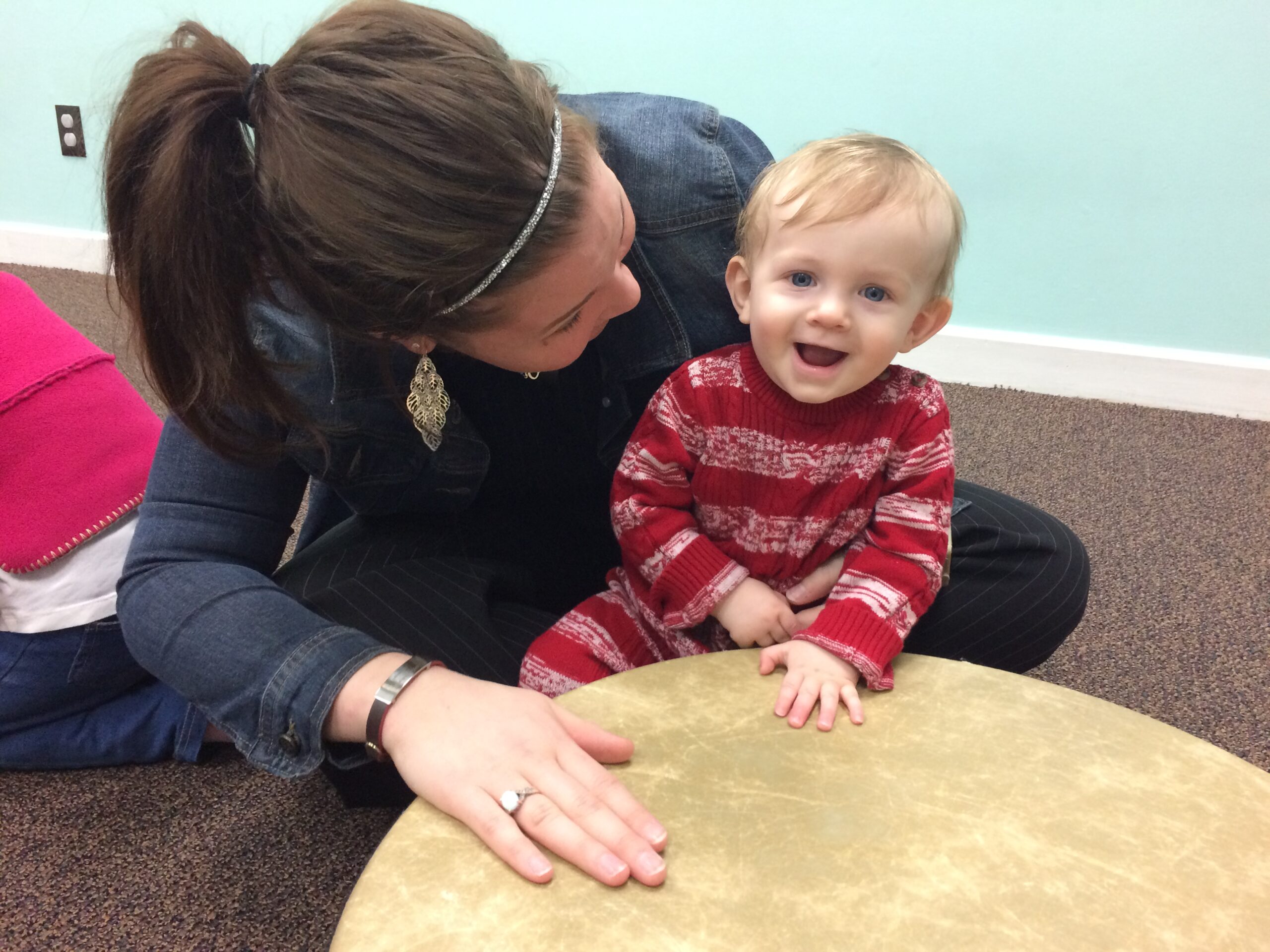 How early can my child start music class?
We get this question (or a variation of it!) all the time here at Piano Central Studios: "How early can my child start music lessons?"  The answer might surprise you!
Many people automatically equate music classes with traditional private music lessons, but that's where Kindermusik comes in.  Kindermusik is music and movement, "mommy and me" group music classes for babies to age 7.  With Kindermusik, you can begin exposing your child to music and instilling a love of music when they are a newborn!
Humans are pre-wired to have a natural and instinctive response to music. We've all seen the videos and reels of adorable little babies who immediately begin cooing, moving, and dancing when music comes on.  Besides the joy that participating in music classes brings, early music education also benefits your child cognitively and developmentally, including enriching brain development, improving language skills, enhancing spatial-temporal abilities, and enlarging their creativity, imaginations, and self-expression.
Whether you have a musical background or not, you can nurture your child's innate interest in music from a very young age with Kindermusik, laying the perfect foundation and paving the way for taking music lessons when they are older and ready for that next big step.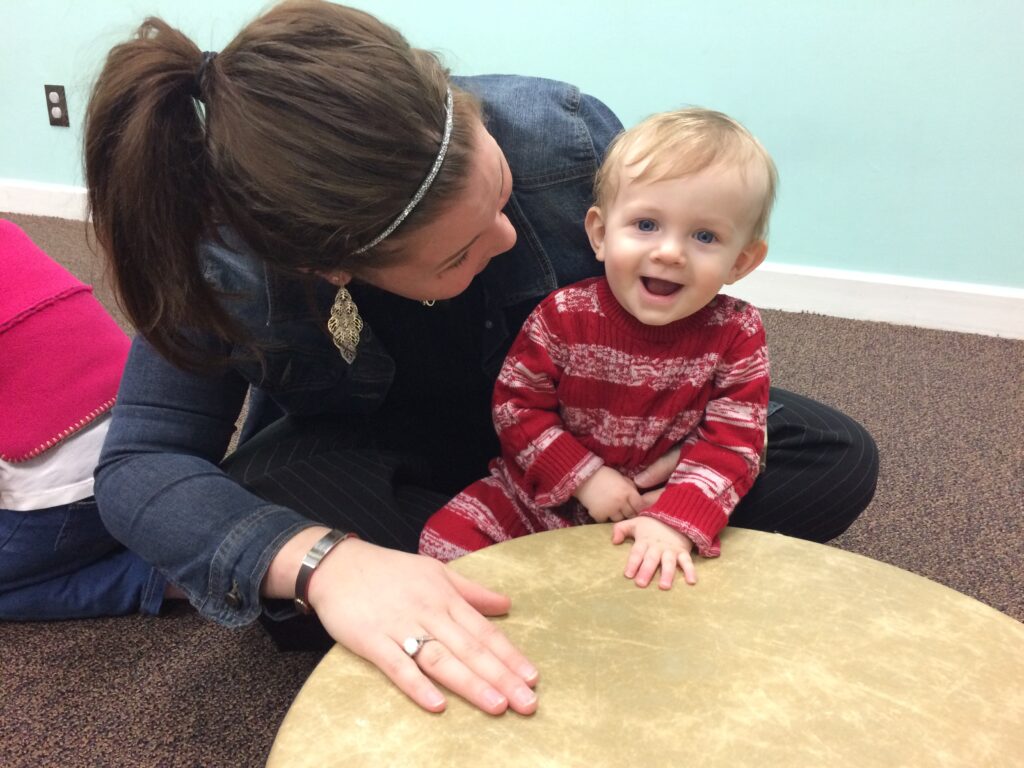 Music Classes for Newborns to Age 7
The basic premise of Kindermusik is that children learn best in a rich, multi-sensory environment filled with music and movement where concepts and activities are age- and developmentally appropriate. In the arms of their grown-ups, babies in our music classes hear, see, feel, and experience a variety of music and musical concepts through movement, instruments, and props.  When it comes to introducing children to music, the earlier the better!
The adults in our classes – parents, grandparents, nannies, aunts, and uncles – support their little one's learning through exploring Kindermusik instruments together, singing, cuddling, playing, and dancing with their child in class and at home.  No previous musical experience required – just a desire to interact with your child and watch them blossom, grow, and learn through music classes!
It all starts in Levels 1 and 2 where the babies and toddlers in our music classes experience the beneficial advantages of Kindermusik activities that:
No matter when they begin in Kindermusik classes, children can be part of an early childhood music program that progresses from Levels 1 to 5 and graduates them right into beginning group classes or private music lessons.
Music Lessons for Ages 6 to Adult 
In Kindermusik, we focus on the joyful, pressure-free development of music skills, laying the foundation for musical understanding and instilling a lifelong love of music – which are the keys to greater success and stick-to-it-tiveness in music lessons.
So when is the best age to begin music lessons?  Physical readiness, emotional maturity, self-motivation, the ability to focus and follow instructions, and reading fluently are all essential considerations.  Start a child too young, and they'll get frustrated and burn out and are more likely to quit lessons.  Start when a child is too old, and it becomes harder to stay focused and catch up with their peers.  That being said, here at PCS we can take any music student from where they are to where they want to be with our customized approach to giving music lessons!
Some instruments are made such that they cannot be held or played by younger students.  Other instruments, like piano, strings, ukulele, or voice are perfect for younger beginners and can also be the springboard to another instrument when the student is older.  Here at PCS, we've found that our students do best when they are at least the minimum age for moving up a level in Kindermusik or taking lessons on a specific instrument.
Age Recommendations by Instrument
The ideal age will vary depending on the instrument you want to learn and the readiness and motivation of each individual student, but here's a helpful guide for Kindermusik and music lessons at Piano Central Studios:
Babies to Age 7: Kindermusik Instruments
Kindermusik instruments undergo vigorous safety testing and are clearly marked as safe and developmentally appropriate for specific ages.  Children in our Kindermusik class are exposed to a variety of age-appropriate instruments, starting with bells, shakers, and drums, continuing with ensemble play and a variety of instruments in Level 3, and ending with our Level 4 and Level 5 students learning to play the glockenspiel, ukulele, dulcimer, and recorder, giving them pre-keyboard, strings, and pre-woodwinds experience.
Using a variety of Kindermusik instruments encourages creative exploration, play, steady beat development, and the joy of making music – all in a no-pressure, joyful, inviting learning environment.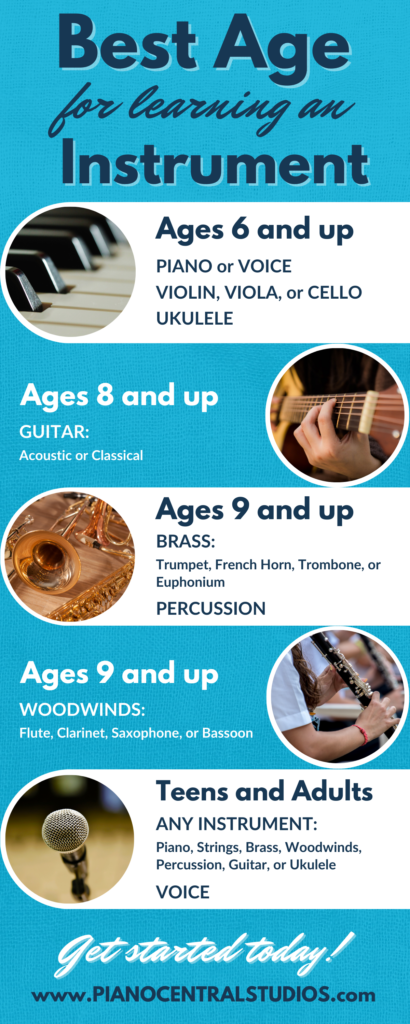 Starting at age 6: Piano, Violin, Viola, Cello, or Ukulele
Each of these instruments are the right size for younger beginners and a great introduction to learning to play an instrument.  For example, students who start with learning piano can easily add or switch to learning any other instrument.  Ukulele is a fun instrument that's perfectly sized for younger students who might want to learn to play the guitar.  And violins, violas, and cellos come in a variety sizes so that the instrument can grow with your child.
Starting at age 6: Voice
While we recommend private lessons for the older student (ages 10 and up) whose voice is maturing and ready for individualized training, younger children can begin their voice studios in our Studio Singers group voice class for 6 to 9 year old beginners.  The specialized curriculum and small class sizes create a conducive environment for learning to sing, match pitch, and read notes and rhythms, preparing voice students for the natural next step into private voice instruction.
By age 6, students also have an idea of their own musical preferences which helps them choose what kind of lessons to take.
Starting at age 8: Guitar
Around the age of 8, most students can comfortably hold a guitar and have the finger strength and dexterity to press down the strings.  (If necessary, students can start with a 1/2  or 3/4 size classical guitar with nylon strings.)  Students who are successful with guitar lessons not only have an interest in the guitar, but also have basic finger dexterity, hand coordination, and attention span for the weekly lessons and the daily practice time required at home.
Starting at age 9 or 10: Brass Instruments, Woodwind Instruments, and Percussion
The list of lesson choices just got even longer!  At this age, of course, piano, strings, or voice are also still viable options for musical study, but around age 9 or 10 is ideal for learning any of the instruments that are part of a band – brass, woodwinds, or percussion.
This includes trumpet, french horn, euphonium, tuba, flute, clarinet, saxophone, bassoon, and percussion.  Shape of the mouth, an interest in the instrument, and a love for the sound of the instrument can all be determining factors in choosing whether to learn to play a brass, woodwind, or percussion instrument.
Teenage students and adult students:
Teenage and adult students can take music lessons on any instrument, whether they are learning to sing or play an instrument as beginners or they are returning to lessons as an older student.  Older students might also focus on a specialized area of music lessons, such as hymn playing, composing, or improvising.
Teenage and adult students have the distinct advantage of having the focus, motivation, and self-discipline to make rapid progress with their lessons and consistent practice throughout the week at home.
Conclusion
From babies to adults, it's never too early – or too late! – to start learning music and reap the lifelong benefits and joy that only singing or playing instruments will give.  Early childhood music classes from babies to age 7 and music lessons for ages 6 to adult are the perfect way to make music a part of your heart and life.
Every one of us has an innate responsiveness towards music and the potential to learn to enjoy music and making music.  The difference is in whether or not that musical potential is nurtured and given the opportunity to grow, blossom, and thrive.
And that's what we're all about here at Piano Central Studios – nourishing hearts and minds, from babies to adults, with music making for life!
Enroll now in our 1-month trial of Kindermusik classes or music lessons!