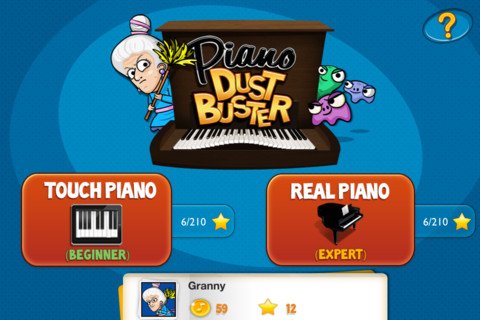 Who can use this: any age
What does it help you develop: a love for learning your favorite songs!
Where is it available: Apple Store only
Cost: FREE (or pay for an upgraded package of your choices)
Inspiration goes a long way in learning an instrument. This app is the perfect way that your child, a grandparent, friend, or even yourself can learn popular songs that are favorites in your home or on the radio. Piano Dust Buster comes with many different songs that you can learn on your piano or on the digital piano there in the app. Simply choose a song and simply play when the germs fall on the rhythm line!
This app is perfect for in your home at your piano or in the car. No chords or wires are needed. If you are using a piano, the app simply listens to you play. If you are using the piano in the app, it will hear you as well!
Learning classical pieces and working through lesson books are very important for our music students. At the same time, it's important for students to be inspired by the songs that the hear around them. Download this app and watch their faces light up when they can show you the songs they can play.