Kindermusik for Preschoolers
Kindermusik at School brings the power of Kindermusik right to your child's preschool or child development center. Your child will enjoy weekly music classes that are thoughtfully designed to improve the skills that will lead to success in school and in future music instruction.
Kindermusik at School helps your preschoolers develop pre-literacy and language skills through a child's most-loved rituals, music and story time, while also introducing the musical concepts and skills that will prepare your child for success in formal music lessons later.  Kindermusik at School is like preschool for music lessons!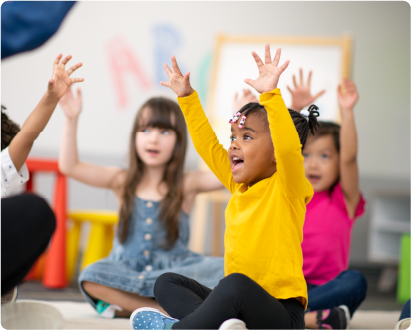 Your preschooler will thrive through:
• Songs and rhymes to develop phonetic awareness and early reading skills
• Tapping, clacking, and ringing rhythm instruments in time with music to improve hand-eye coordination
• Focused listening with music to improve skills in following directions
• Instrument play to strengthen fine motor skills
• Developmentally appropriate songs to develop vocal cords and expressive speech
• Learning that emphasizes storytelling, imaginative play, and taking turns