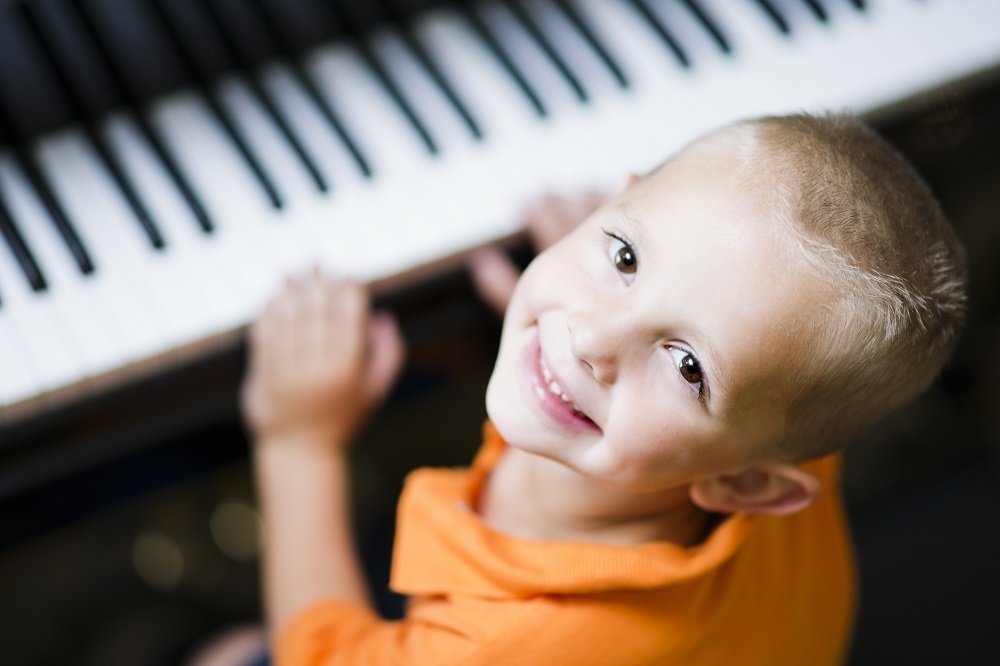 What Students Learn in Their Summer Music Lessons at PCS
Summer really is the perfect time for taking music classes or lessons!  Taking Kindermusik classes or music lessons in the summer provides a bit of structure to your week, gives you and your child something to look forward to, and fills your summer with something both meaningful and rewarding.
Students who have never taken Kindermusik classes or music lessons can also use the summer to ease in and test the waters.  Starting music lessons in the summer can also establish the routines of music, helping you adjust and giving you a headstart on the school year when there might be other big changes happening.
Here at PCS in the summer, you'll find ongoing Kindermusik classes that you can jump right in to; short sessions of introductory group lessons in piano, violin, and voice; and packages of private lessons that allow you to fit your lessons into your summer plans.
Summer Kindermusik Classes
Kindermusik classes at PCS offer young children newborn to 7 years of age an incredibly rich and delightfully enjoyable early experience with music.  There are five levels of Kindermusik so that your child also benefits from interacting with other children their age in classes that are designed just for their age and developmental abilities.
In Level 1 and Level 2, you can enjoy "mommy and me" classes – or "daddy and me" or "Grandma and me" or "my nanny and me" – you get the idea!  These engaging and interactive classes are as much for the adults in the class as for the children, and we make sure you both have fun while you and your child are both learning, socializing, and making special memories together.  The classes are 45 minutes long and meet once a week.
Level 3 is the transition class for our preschoolers, with the first 30-35 minutes of class for the children, and the last 10-15 for Sharing Time when the whole family is invited in to celebrate what the children have learned and to enjoy some musical activities together.  Lots of creativity, singing, moving, instrument play, and imagination spark the learning and joy of music in our Level 3 classes.  Parents tell us that they really love how these classes give their child confidence in taking these first big independent steps.
Level 4 and Level 5 are hour-long, weekly classes that introduce your child to a higher level of musicianship and musical concepts, preparing them to take music lessons when they graduate.  This preparation comes not only through all that they are learning, but perhaps even more importantly, through all they are enjoying and the love of music that both the learning and the enjoyment instill in each child.
One unique thing about our summer Level 5 classes is our theme and focus – our Hawaiian Adventures theme is perfect for introducing and teaching the ukulele.
Early exposure to music and an ever-growing love of music are two of the biggest success factors that contribute to a lifetime of not just appreciating music, but being able to sing or play an instrument in childhood and all through adulthood.
A special perk available year-round to our Kindermusik families is one that may be especially valuable and appreciated in the summer – the perk of unlimited makeup classes!  The makeup classes are
Introductory Group Classes
Parents love that their beginners between the ages of 6 to 9 years can choose an introductory group class in the summer.  The introductory group classes are scheduled in short, doable sessions that meet once a week.  These classes are specifically designed to motivate and excite your beginner about taking lessons, even as they give you a chance to see how much your child really is going to love taking music lessons!
In the group music classes, your beginner will play games, begin learning to sing or play their instrument, engage with their peers, and be assigned a little bit of light homework with some easy practice assignments.  Other activities might include the use of props to teach rhythm or note reading or fun music or theory worksheets.
Although the summer offerings can vary from summer to summer, you can typically choose from introductory classes in piano, violin, and voice.
Private Music Lessons
Students ages 6 to adult can also choose to take private music lessons.  In the summer, we offer "packages" of lessons where you choose how many lessons and how long (30-minute, 45-minute, or 60-minute) those lessons will be.
Taking private music lessons gives students of all ages the benefits of individual attention and personalized instruction, meaning we work hard to discover your interests, abilities, learning style, and goals so that we can customize not only what we teach, but also the pace and rhythm of learning for each student.
Before you even begin your music lessons at Piano Central Studios, we'll take the time to ask questions and learn more about you or your child so we can recommend the best possible Kindermusik level or lesson teacher for you.  We have great teachers here at PCS, and nothing makes us happier than putting together a great student-family-teacher match!
From there, we'll coordinate summer lesson scheduling that is convenient, flexible, and fits around your other summer plans.  We even offer a special summertime perk of being about to reschedule your lessons when you give at least 24 hours' advance notice.
At PCS, you can take private lessons on nearly any instrument including piano, voice, violin, viola, cello, trumpet, trombone, euphonium, clarinet, flute, saxophone, bassoon, guitar, ukulele, and percussion!
Maybe your child is a beginner and they would thrive with the individualized attention of private music lessons.  Or you might have a child who wants to improvise or compose.  Perhaps your child is in the school band or orchestra and needs the boost that a summer of private lessons would give.
Don't wait… get started today!
No matter what your reason, summer really is an ideal time to take music lessons.  You'll never know what a lifetime of music can mean for yourself or your child, and it could all start this summer.  A lifelong love of music can start or be fueled for you this summer!
Getting started in summer Kindermusik classes or music lessons is easy.  Simply give us a call at 864-232-5010 or go online to enroll for summer Kindermusik classes or to enroll for summer music lessons.  From there, we'll be in touch to confirm, and you'll be enjoying your first classes or lessons of the summer before you know it!