Kindermusik Birthday Parties
Celebrate Kindermusik-style!
Turn your child's birthday party into a uniquely unforgettable musical celebration with Kindermusik birthday parties!
Kindermusik birthday parties can be everything you dreamed a party should be – completely interactive, totally fun, and utterly magical – not just for the kids, but also for all the adults too!  With over 20 years' experience under our belts, it's no surprise that we're the experts when it comes to making music and making children smile. Best of all, you'll love how one of our Kindermusik birthday parties will take a huge part of the planning, decorating, and entertaining work load off you.
Magical, Musical, and Memorable.
We'll start your party with an hour of musical fun and entertainment – instrument exploration and play-alongs, creative movement, story time, and circle dances are all among the many activities that your party will enjoy. Afterwards, you can celebrate however you'd like for the second hour. We recommend super simple and easy with light, kid-friendly refreshments and a short time to open gifts (we also bring a gift for the birthday child, too).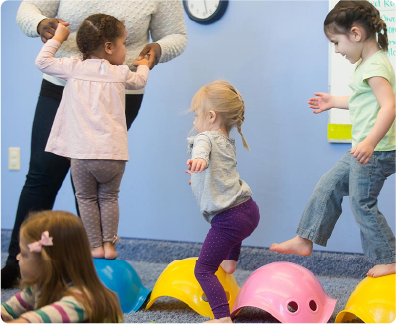 COVID Update:
We are currently unable to offer birthday parties at this time.  Please keep us in mind for the future though!
Set the date, choose a Party Package, and book your party!
Kindermusik Party Packages & Party Favors
Kindermusik Birthday Party Planning Tips
• Scheduling: Plan to start your party with Kindermusik. Food and gifts should come out after the music portion of the party.  Your Kindermusik party will start and end on time.
• Attendees: Kindermusik® Birthday Parties are best suited for children between the ages of 6 months and 7 years. We recommend having no more than 10 to 12 children in attendance at the party. (You may choose to send out more invitations since it's not likely that everyone who is invited will be able to come.)
• Adults participate, too!  For children and guests ages 1 to 3, please have one actively participating adult with each child. For children over the age of 3, we ask that at least one adult be available for every 5 children in attendance.
* Themes include: Alice in Wonderland, Around the World, Clubhouse, Construction, Dinosaur, Dog, Fairy, Farm, Heroes & Princesses, Hungry Caterpillar, Jungle Safari, Ladybug, Monster Truck, Nursery Rhymes, Princess Tea Party, Super Heroes, Teddy Bear, Train, Under the Sea, Toodles, and more!